國際配送因新型冠狀病毒而延遲或暫緩之更動

親愛的顧客您好,
受新型冠狀病毒肺炎(COVID-19)疫情影響,截至目前為止可收寄出口國際航空郵件之國家/地區為28個;且目前發往可通達國家之郵件,郵遞時效皆有所延誤。
一、柬埔寨、西班牙僅開放收寄國際包裹。
二、比利時、瑞士、瑞典、捷克、義大利、澳大利亞僅開放收寄國際快捷郵件(EMS)。
三、加拿大、紐西蘭開放國際快捷郵件(EMS)及國際航空函件。
四、英國(大不列顛暨北愛爾蘭聯合王國)地區目前僅開放DHL空運快遞服務。

二、目前郵件仍可通達之國家(地區),郵遞時效皆有所延誤,尤其以法國、馬來西亞、美國、澳洲墨爾本及加拿大影響最鉅。另本公司接獲泰國郵政通知,因該郵位於機場之郵件互換局員工染新冠病毒肺炎,自4月26日至5月4日暫停郵件處理作業,俾全面進行清潔消毒工作,爰目前出口至泰國郵件將大幅延誤。

三、於航班恢復正常前,盡可能以國際快捷郵件(EMS)交寄;倘考量急迫性,亦可使用本公司代收FedEx、DHL國際快遞業務交寄。

四、疫情期間,許多國家(地區)暫不提供投遞簽收證明;另國際快捷郵件(EMS)不提供延誤補償。

(截至2021/5/3更新)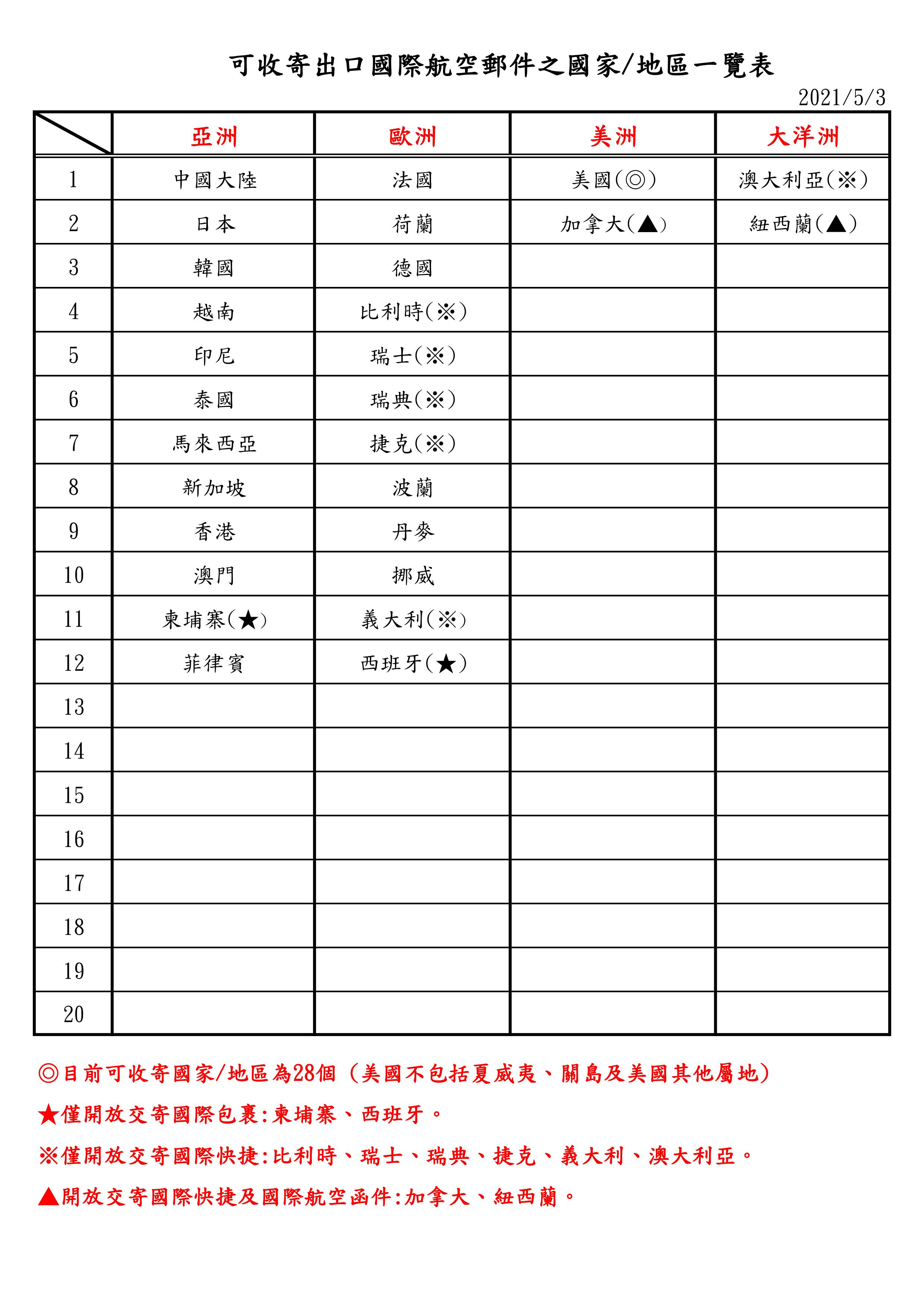 COVID-19 Shipping Updates

Dear customers,

1. In the wake of of COVID-19 , airmail services to all international destinations may be subject to delay, particularly to the North America, EU and United Kingdom. We only provide EMS or DHL delivery to those available countries. Feel free to write to info@thriveofficial.co to discuss alternative shipping solution.

Currently, air mail service is available to 28 destinations.
(1) Please noted that only Parcel service is available to Cambodia and Spain.
(2) Only EMS service is available to Australia, Czech Republic, Sweden, Switzerland, Belgium and Italy.
(3) EMS and Letter-Post services are available to Canada and New Zealand.
(4) DHL is available and the only shipping solution to United Kingdom for now.

2. Due to the outbreak of COVID-19, airmail services to many destinations may be subject to delay, particularly to the Malaysia、France、United States、Melbourne, Australia and Canada.

3. Many destinations do not provide the proof of delivery.

4. During COVID-19 period, no delay compensation for EMS.
(2021/5/3 edit)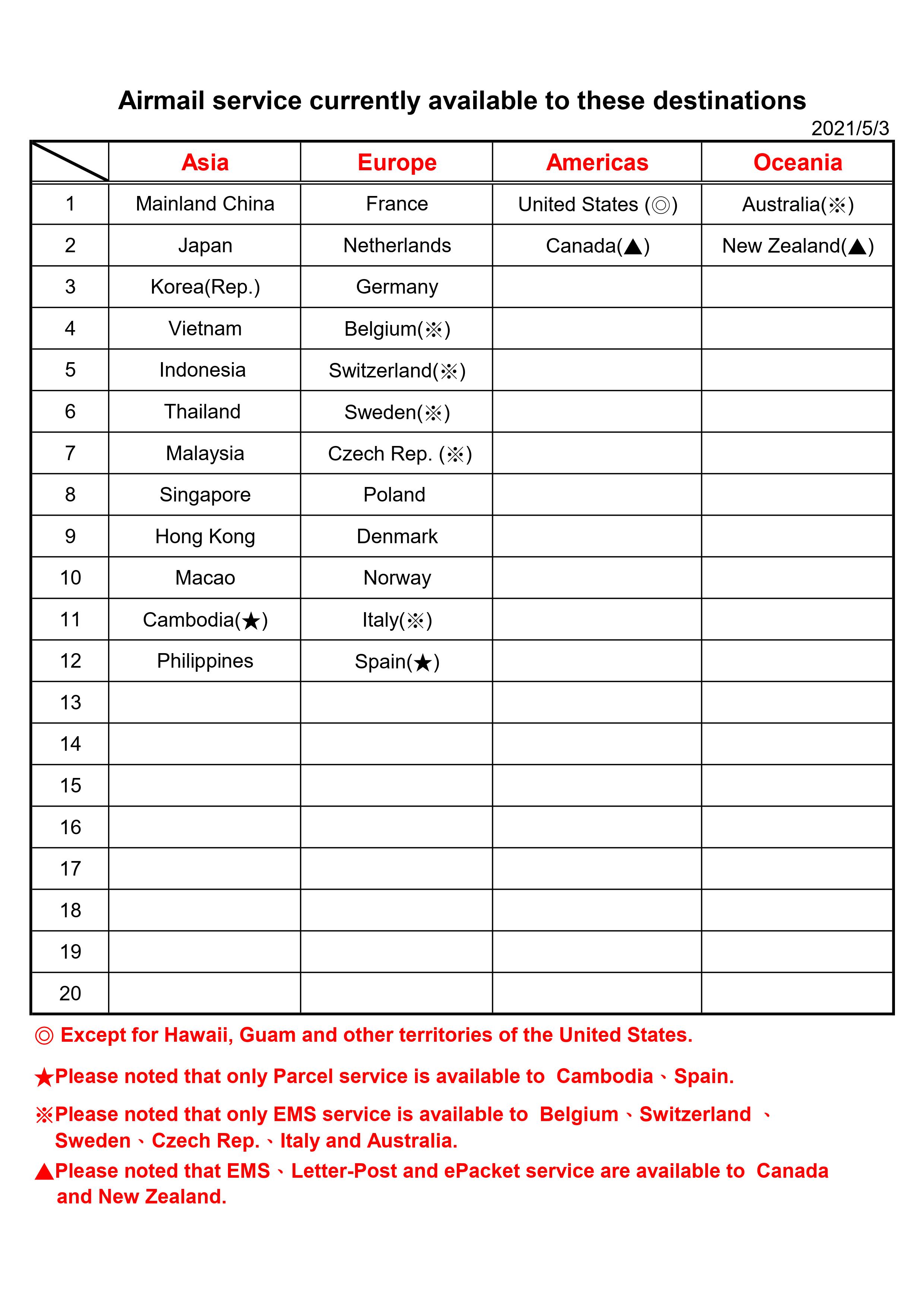 ———
國內配送普通配送在台灣本島、外島皆由中華郵政掛號統一寄出,本島需要 2 至 4 日寄達,外島需要約 7 日寄達(不含假日)。
國際配送由中華郵政掛號、順豐快遞或其他物流服務寄出(根據國家不同),約需要至少 5 至 21日寄達。
若有特殊急用狀況皆可來函協議使用其他快遞服務。
消費金額滿 NTD.8000 享有國內免運費,滿 NTD.10000 享有國際免運費。
---
For domestic customers, we use registered postal service with a tracking code, it might take 2 days to maximum a week to finish the delivery.
The international shipping fee varies for each order, it usually takes 5-21 days to finish the delivery.
If you have urgent needs please contact us directly.
Free shipping for all orders over NTD.8000 (Domestic)
Free shipping for all orders over NTD.10000 (International)