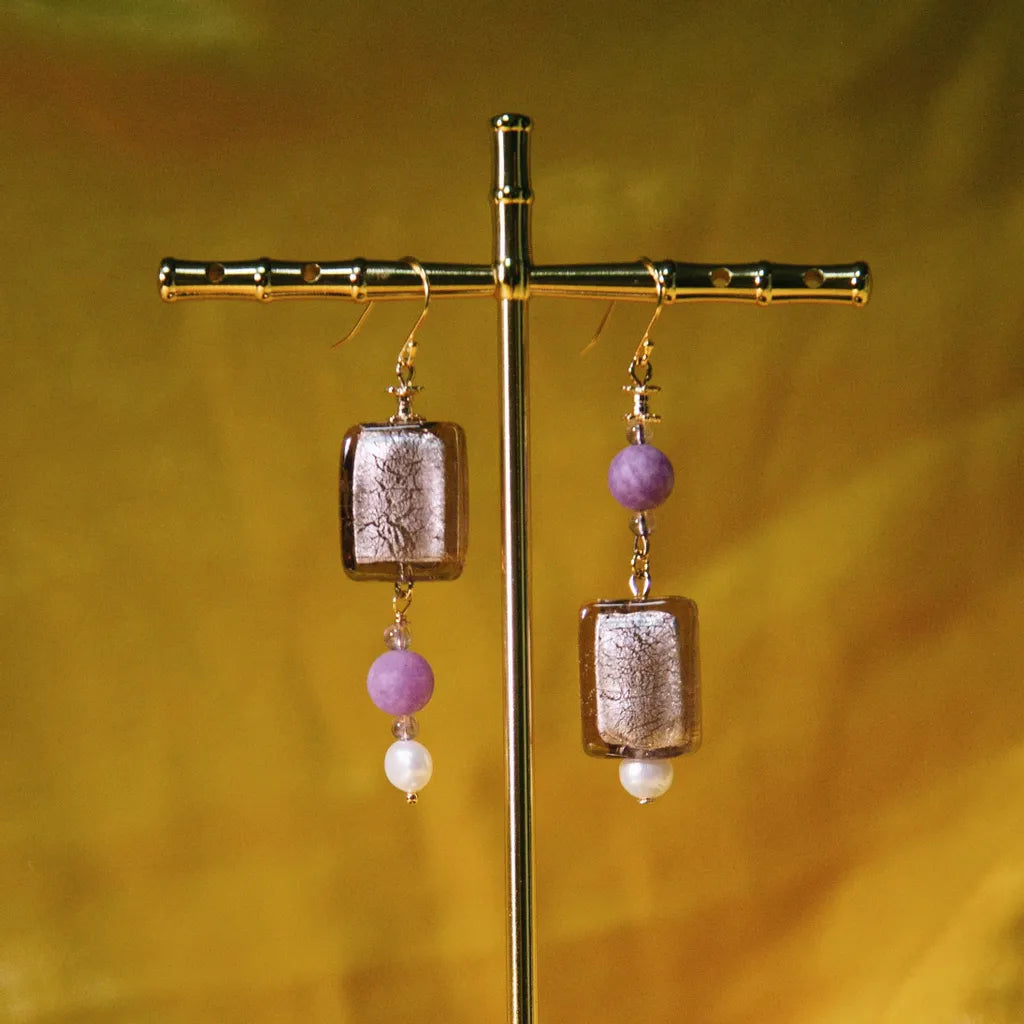 Lovers VI Lovers Six Major Arcana Silver Foil Glass Amethyst Asymmetrical Earrings
Lovers VI Lovers Six Major Arcana Silver Foil Glass Amethyst Asymmetrical Earrings
Lovers correspond to Gemini, the wind element in astrology. The first reaction of ordinary people to this card is usually related to "love, romance", that is, the combination and communication between the two parties, but in fact, in the older version of the Waite Tarot, The lovers card also has a wider meaning of "choice, opposition". On the traditional card image, the man (Adam) symbolizes masculinity, rationality and conscious consciousness, and the woman (Eve) symbolizes femininity, sensibility and subconsciousness. It is just a combination of love and marriage, but it also represents any alliance, such as interpersonal or partnership.

The Venetian silver-foil purple glass and amethyst beads chosen this time are not the colors commonly used to describe love. The complementary and asymmetric arrangement is also based on the concept of "making a covenant". Finally, we add a little bit of our favorite soft pearl.

Amethyst has a wide range of functions, corresponding to the brow wheel, has the energy of attracting wealth and forming noble relationships, assists careful thinking and increases memory concentration, returning to the design of the lover card, it may be helpful in communication between two parties or multiple parties.
✺ Amethyst - attracting wealth, forming good relationships, and deliberate.
✺ Purple colored glaze - assists the success of love and career, and also has a protective effect on the cardiovascular system.
✺ Freshwater pearls - nourishing and beautifying skin.

- about 6.5 cm long
- Sterling Silver Ear Posts or Brass 18K Gold Plated Screw Ear Clips - Sold in pairs - Design and manufacture in Taiwan 
Lovers VI Lovers Six Major Arcana Silver Foil Glass Amethyst Asymmetrical Earrings