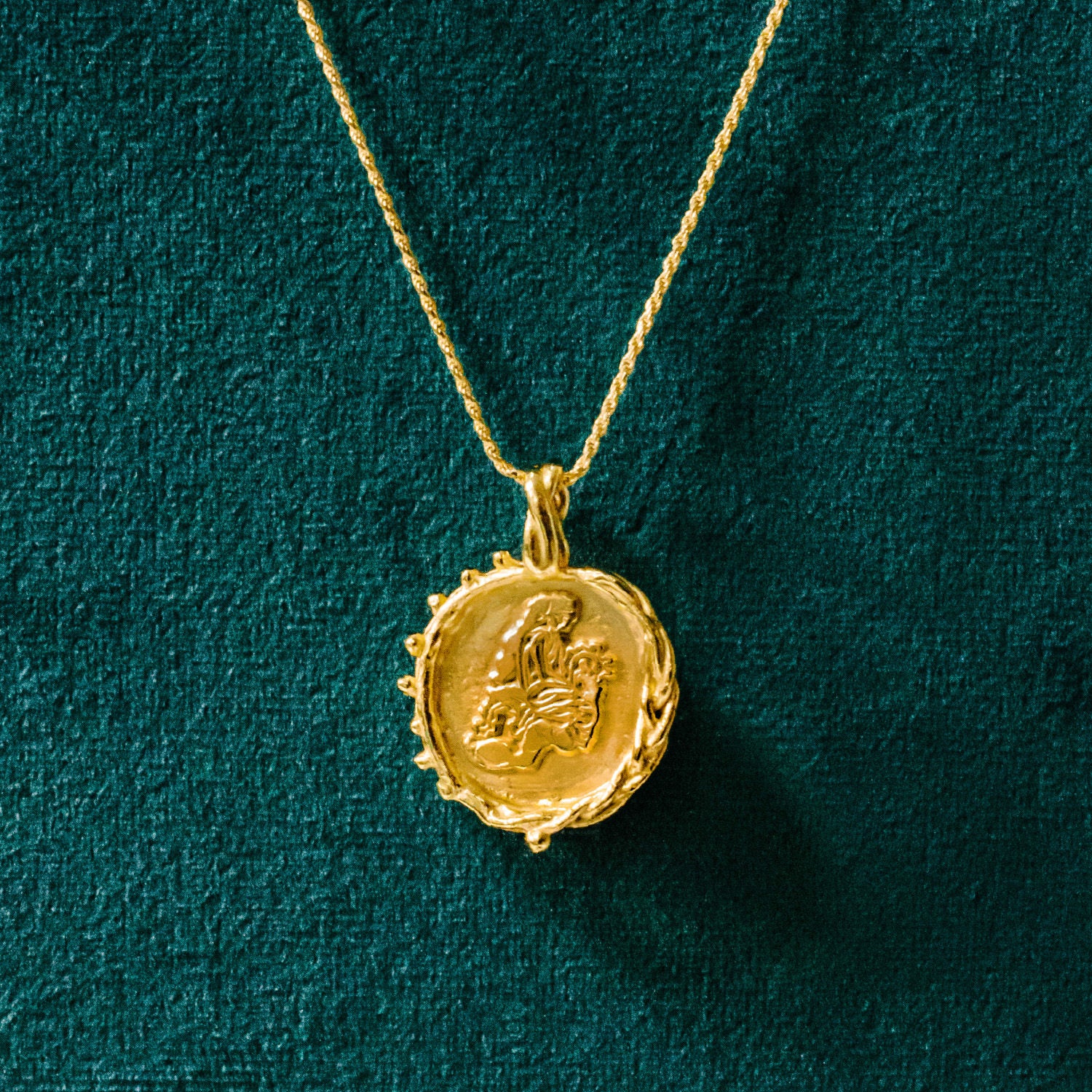 Scorpio Necklace Scorpio Sunshine Zodiac Pendant
Arcadia Treasure Wonderland Series・Chapter 3・Chrόnos
Scorpio / Scorpio
The image is a sitting scorpion lady, representing mystery and sensitivity
Shaoguang Twelve Constellation Pendant (Pendant can be purchased alone or together with a necklace)
-Material: thick brass plated with 18K gold (anti-sensitivity and nickel-free)
- Size: about 3*2.5cm in length and width

Necklace with rope strand chain <br data-mce-fragment="1">The wearing position is about under the collarbone on the chest, and there is a small exquisite trademark tag at the end of the chain - Necklace size: 18 inches / 45cm+5cm adjustable extension chain
-Designed and manufactured in Taiwan

---
Chrόnos time

The design of the "Arcadia" series is inspired by Arcadia, a paradise in the Peloponnese in ancient Greek mythology.
Χρόνος / Chrόnos means "time", and is also the god in charge of time in Greek mythology.
Following the walkers at the bottom of the green valley and the rivers and streams, we came to the sky in the third chapter of Arcadia.
The Babylonians saw the stars dancing with the sun, which had a regular circular trajectory, and the oldest mysticism was born; the Greeks on the east coast of the Mediterranean Sea inherited this custom and continued to tell these stories in the theater and battlefield of Mount Olympus Legends and astrology.
Constellation pendants are the most classic accessories. THRIVE read from historical materials this time, defined the design drafts by hand, and some of them were carved with wax embryos and then molded. Each gold coin-like round pie pendant has a half-human half-animal independent pattern corresponding to the twelve constellations. It is a mixed culture of the Minoan bronze and archaic period, and the classical period of conflict and reorganization in the Peloponnese feature.
Taste it carefully and become your daily personal guardian star.
Scorpio Necklace Scorpio Sunshine Zodiac Pendant