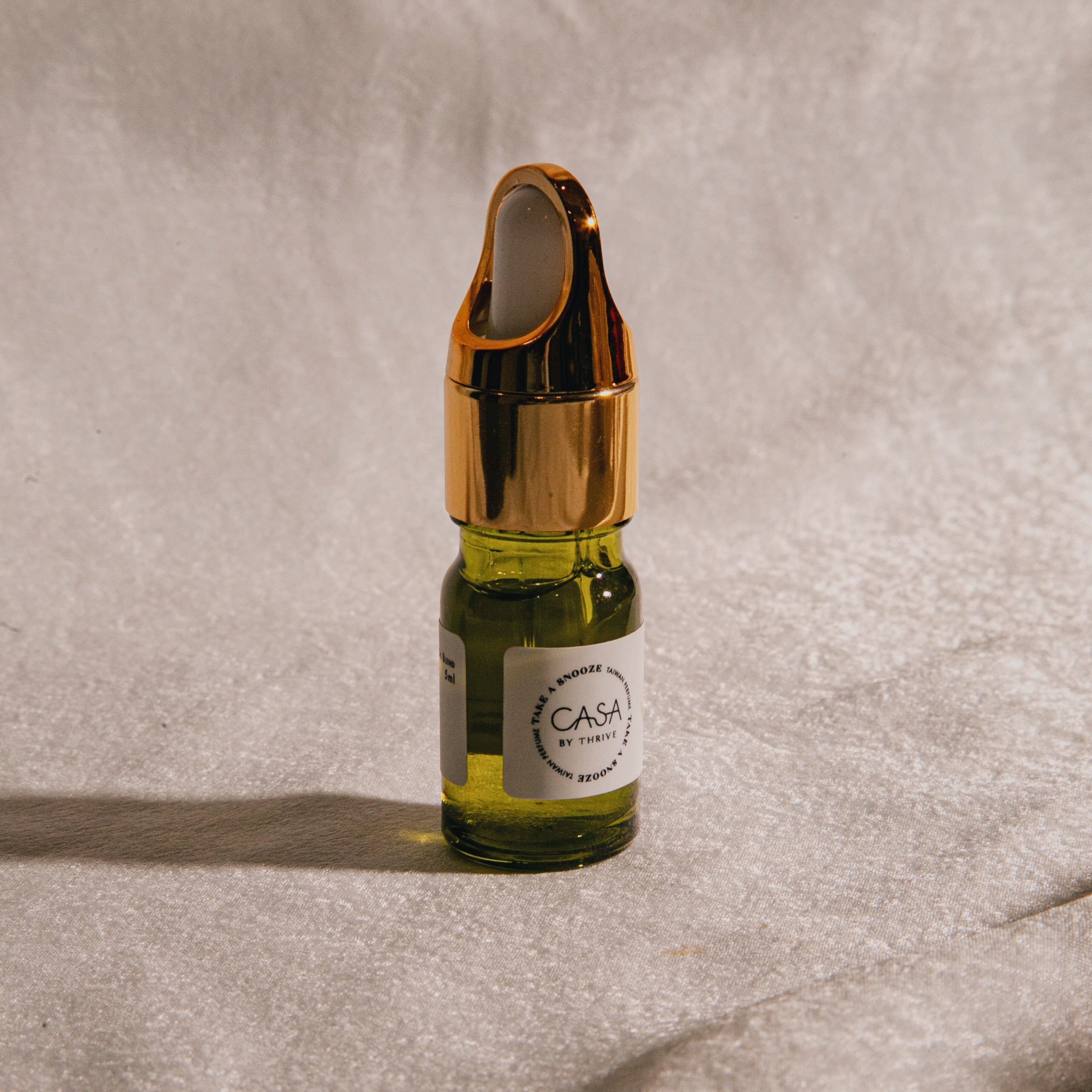 THRIVE x TAKE A SNOOZE Jointly Branded Natural Fragrance Compound Essential Oil Traditional/Raw
$228.57
Regular price
$361.90
THRIVE Fansheng x TAKE A SNOOZE

To carry on the story/Taking a break is for accomplishing a longer journey
Both are independent studios that made their fortunes in Taiwan. Each accessory design and exquisite fragrance of the two brands has its own story. With different styles of dressing and different fragrance techniques, let us take you into a beautiful life with five senses, fully Enjoy the texture experience.
This time, TAKE A SNOOZE's fragrance magnetic buckle launched by CASA BY THRIVE is paired with two kinds of natural essential oil aromas specially prepared by TAKE A SNOOZE:
Named after reversing the multiplication of life, the birth is daytime, and the multiplication is night running——
✺ Health — For Day
For the morning and afternoon activities, we did not use too stimulating mints to refresh our minds. We chose the classic and clean Japanese yuzu, the mild Ylang Ylang, the rare sweet perilla, and the fresh and refreshing Atlantic cedar. Slowly awaken your sleepy senses and welcome a brand new day.
Morning sun: Japanese yuzu, perilla, ylang ylang, Atlantic cedar
Nippon Yuzi, Perilla, Ylang Ylang, Atlas Cedarwood
✺ Traditional — For Night
After nightfall, we may be temporarily tired, but because we are still out, we did not prepare lavender as a base for sleep, but Damascus rose for soul restoration, and cinnamon, which can cool down the cold and activate blood metabolism, and refresh the brain. The indifferent jade sandalwood makes you full of vitality even under the stars and moon.
Night Dream Mystery: Damask Rose, Cinnamon, Myrrh, Sandalwood
Rosa Damascena, Cinnamon, Myrrh, Guaiac Wood
- Product name: THRIVE x TAKE A SNOOZE joint natural fragrance compound essential oil complex / raw
- Capacity: 5ml/0.17FI.oz
- Ingredients: Essential oil, Lsohexadecane
- Precautions: Contains natural ingredients, so differences in color and aroma are normal and quality is not a concern. Please place in a cool place and avoid direct sunlight. This product is a diluted natural fragrance compound essential oil, which is suitable for direct contact with the skin and does not over-irritate the respiratory tract. It is not 100% pure essential oil alone.
- The shelf life is marked on the outer package, 2 years if unopened, use up as soon as possible after opening.
- Brand distributor: HANMATE Co., Ltd. 
                            9th Floor, No. 266, Section 1, Heping East Road, Daan District, Taipei City
                            +886 (02) 23661205 
-MADE IN TAIWAN
*This product is not applicable to any discount coupons*

THRIVE x TAKE A SNOOZE Jointly Branded Natural Fragrance Compound Essential Oil Traditional/Raw
$228.57
Regular price
$361.90