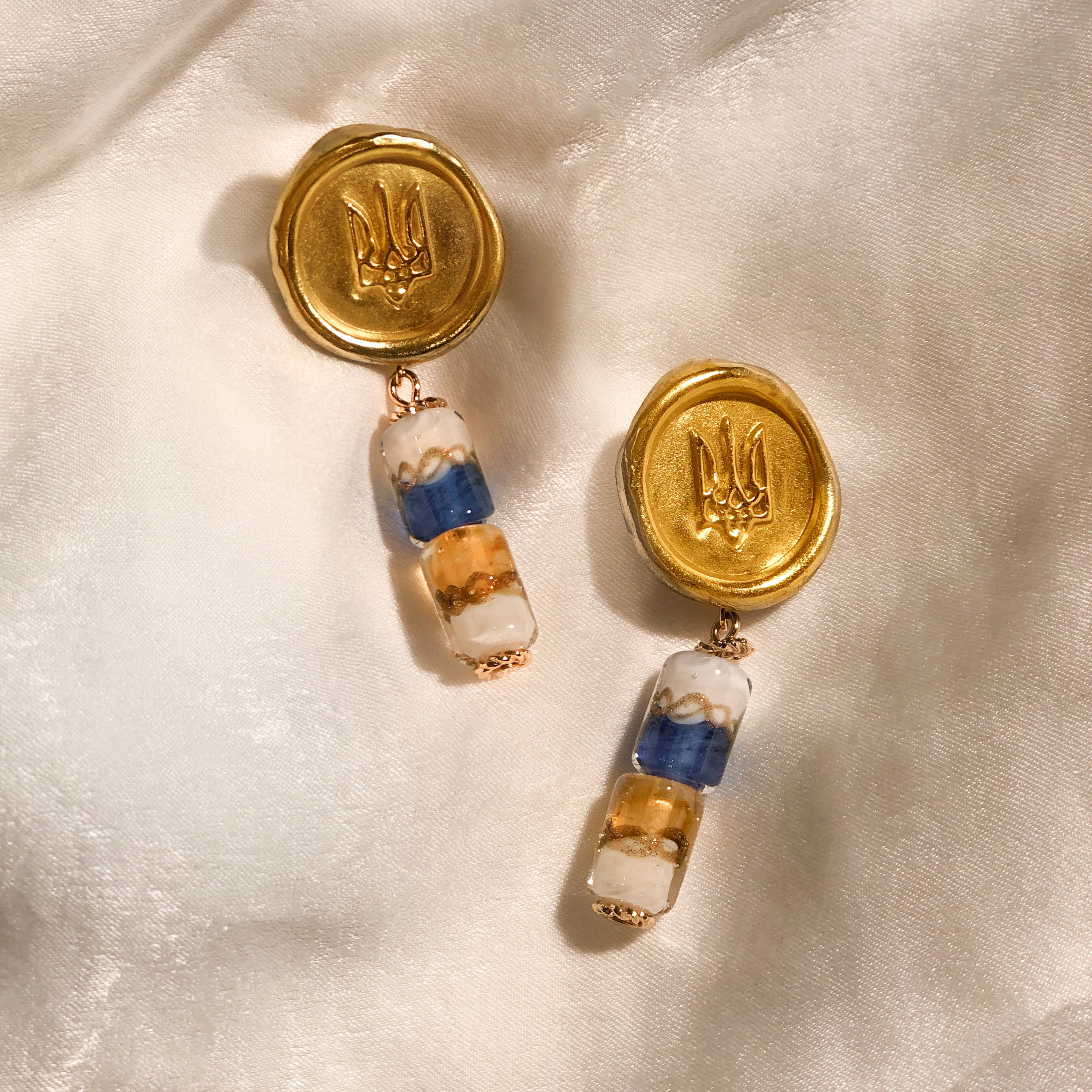 United With Ukraine Ukrainian Emblem Glass Earrings (First Generation)
United With Ukraine 🇺🇦 Ukrainian Emblem Glass Earrings Glass Earrings
The national emblem of the Ukrainian People's Republic is a blue shield with a golden trident. The trident "Tryzub" can be traced back to the Rurik Dynasty (Rurik Dynasty, AD 862) at the earliest in history. This design has already appeared in the seal of Kievan Rus in the era of Grand Duke Vladimir, symbolizing the long historical development of the Ukrainian nation tradition and continuity; today this coat of arms is a symbol of Ukrainian national revival and struggle for national independence.

On the flag, blue represents the sky and sea, symbolizing freedom and sovereignty; yellow represents wheat fields, symbolizing Ukraine's long agricultural history. These two colors are derived from the design on the coat of arms of the country. We found the corresponding glass beads to make a small pendant of blue sky and golden wheat, which is paired with 18K gold-plated copper earrings in the shape of ancient coins (up and down are detachable). .
- about 5.2 cm long
- Sterling Silver Post or 18K Gold Plated Brass Screw Ear Clip - With Clasp, Removable Top and Bottom
- Sold in pairs - Design and manufacture in Taiwan 
---

(Note: This picture is a schematic diagram of proofing design, and the product is mainly the final entity)

⚠️ 100% of the surplus from sales of this style after deducting costs will be donated to trusted fundraising organizations.
Donation information can refer to this website: #StandWithUkraine
Or the relief account launched by Taiwan's Ministry of Foreign Affairs
*The 5% discount for new members is not applicable to this product
United With Ukraine Ukrainian Emblem Glass Earrings (First Generation)